Have you got a twinge in your back or are your knees starting to give way at impromptu moments? Well, your body may well be on its last legs and the chances are you are going to have to spend the rest of your days holding up your weight on a wooden stick. But fear not! Don't dwell on your lack of mobility and instead see it as a chance to enhance your look with one of these trendy little aids to vertical movement.
This walking stick has more than meets the eye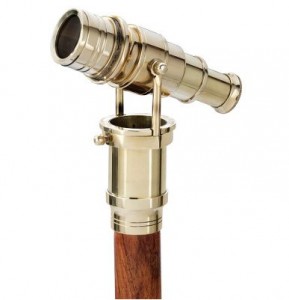 I'd like to think that, if you do need a walking stick to plod around town, you wouldn't have the double burden of not being able to see where you are going. If you are a bit down on your luck, at least you have this handy contraption to stop you walking into lampposts, double-decker buses and other visually impaired ramblers. Although I'm afraid to say, you will look like an absolute tit with that thing to your eye, wooden appendage hanging down like you are doing your best Freddie Mercury routine as you stumble around town. The 3x magnification may have its uses for other walking stick users, if their favourite pastime is birdwatching. But I think Peg-Legged Pete would probably get the most out of it, if he wasn't the brainchild of Walt Disney's pencil.
Cane and able to fight back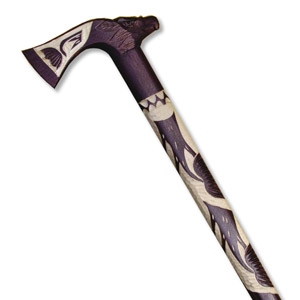 If you live in one of London's gritty boroughs, it may be worth investing in this walking stick-cum-hand axe. It's only wooden, but if you clock a vicious assailant on the noggin with this, I'm sure he will feel it in the morning and may, if you're lucky, temporarily give up on trying to mugging you. Although you've still got to make a getaway with your dodgy leg. Good luck with that.
Stick it to 'em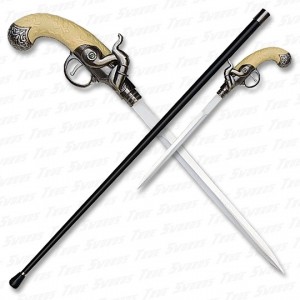 For those that reside in the gun capital of Britain, Nottingham, or Shottingham as it is colloquially known, you may want to invest in this piece of kit. It basically works like mutually assured destruction on a much smaller scale. So when a young hooligan pulls a nuclear warhead (read: gun) on you and asks you for your weekly pension, he'll instead see your own weapon of mass destruction and decide that messing with you wasn't such a good idea after all. Of course, all you really have is a 10″ steel dagger inside your 36″ cane, but at least you know you have something to defend yourself with if a particularly plucky little criminal decides to call your bluff.
One cane to rule them all

This is without a doubt The Lord of the Rings of walking sticks due to the fact that it bears more than a slight resemblance to the walking, talking, orc-smashing flora Treebeard. The expanse of that facial hair does, however, give him a likeness to world-famous wizard Gandalf. You could even use this cane to recreate that scene in The Fellowship of the Ring where he slams his own walking stick-cum-magician's staff into the ground booming "you shall not pass". Although you will look like an insolent, pathetic pensioner with a penchant for wartime battle cries when trying to save your "priority" seat on the bus using this method. Be warned.
 Sounds like a cock and bull story to me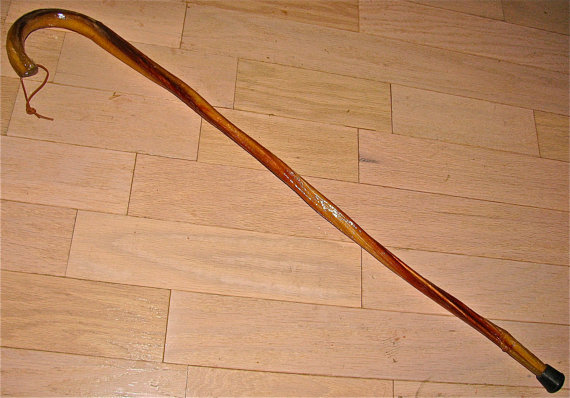 Source
Believe it or not, this shiny appendage is made from another less savoury form of appendage: a bull's penis. Yep, it is constructed from cock, generated from genitals, spawned from a schlong. Quite why anyone would want to walk around with a dried out, reconstituted bull member pressed into their palm is beyond me. Yeah sure, the person selling it may call it a "conversation piece", but if you're acquainted with someone who would be impressed by this meat stick, then you may need to go friend shopping. Whatever you do though, don't start any exchange with "guess what this is made from?"
Rain cane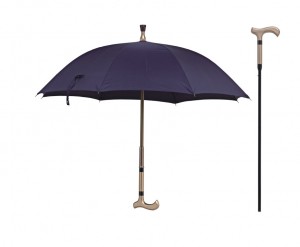 The spork of the walking stick world, this mobility assistance device is just the tool you need when the heavens open. You can swing that cane up in the air like a crippled Gene Kelly, pop it open in a flash and you'll keep yourself dry as a bone. Although the slow realisation that you can no longer use your walking stick for its core purpose and will, therefore, have to stand on the spot until the rain clears may make you feel like a slight buffoon. So it might be sensible to just keep your own little miniature brolly in your bag, rather than investing in this contraption.
Less home run, more home hobble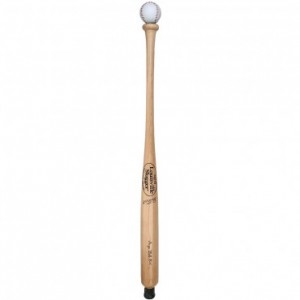 This cane just comes straight out of leftfield. There's something cripplingly tragic about this baseball bat-cum-walking stick. The sight of a poor old baseball-loving pensioner clutching to the ball atop the slugger and trudging around at a slow pace, knowing full well that they will never ever again step up to bat or pitch a curve ball in their life again, just gets my nose tingling. You're just twisting the knife in the wound of your mobility if you decide to pick this up to help you around town.
Not quite a lightsabre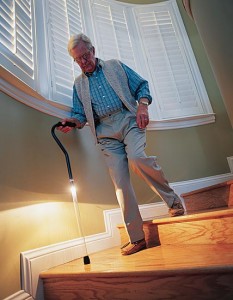 There's nothing like solving a problem that doesn't exist. The makers of this walking stick light sabre really set out to achieve that goal. The Pathlighter is designed so that cane-users can walk around at night with light shining at their feet for "greater assurance and safety". Really, all it turns you in to is a glowing beacon of vulnerability, lighting yourself up to all would be criminals to have themselves a mid-evening mugging. If, like this here chap, you need to light your way down the stairs in your home, throw out the energy efficient light bulbs and invest in some power-glugging 1,000 watt miniature suns and hold on to the bloody banister.
Palm reader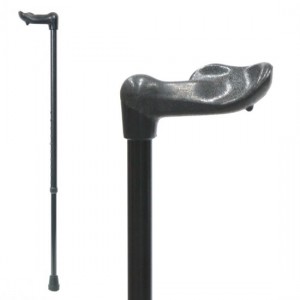 This may look like something designed to take the weight off a man's testicles, but it is, in fact, a walking stick for people that find gripping too gargantuan a task. You just cradle your palm into the ergonomic plate at the top of the cane and wander round in full leaning glory.
Whack for my daddy-o, there's whisky in the jar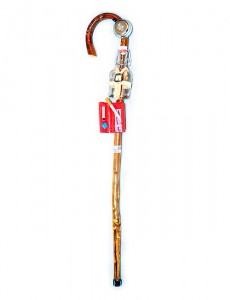 This cane is designed for the mobility challenged who enjoy the finer things in life: boozing and puffing away on cigarettes. You can traipse around town drinking from a bell jar full of the Highlands' finest and smoking like James Dean never got behind the wheel of his ill-fated Porsche without even having the worry of inebriation-induced tumbling. Not to mention you don't even have to yell at innocent bystanders to get the hell out of your way, there's a conveniently placed bell that can do just that.